Project:
Habitat Fragmentation of Ants North and South of the Long Island Expressway
Students:

Nicholas Krall, James Latini, Ayaan Shaikh

School:

Connetquot High School, Suffolk

Mentors:

John Halloran
Abstract:
In a video released by Cold Spring Harbor Labs it is explained that DNA barcoding was invented in 2003 as a simplified way to identify animals. This can be used to identify ant species, from our locations. The ants are an important species to do this research on because according to Thomas O. Crist, a researcher in habitat fragmentation and ants, ants are central in the understanding of the effects of habitat fragmentation. Ants are an ideal group of organisms to monitor biodiversity because of how common various species of ants are on Long Island and how they are relatively easy to collect. Multiple attempts were made at performing ant collection in the northern locations before having a successful collection.
Poster: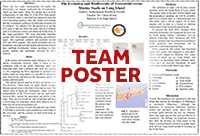 View team poster (PDF/PowerPoint)
Team samples: