Project:
Suburban Effects on Beetle Diversity
Students:

Eddie Smith, Sean Rogalle, Thomas Russo, Jonathan Grenci

School:

Connetquot High School, Suffolk

Mentors:

John Halloran
Abstract:
If the levels of urbanization are very high, then the relative amount of biodiversity of beetles will decrease. This concept has been tested on multiple occasions through multiple sources, however this experiment hasn't been tested on Long Island and we hope to find similar results. Strict procedures will be used, for example the type of trap, which will result in the most reliable data obtained. Using Barcode Long Island, the DNA of the caught specimens will be analyzed and used to determine species identity helping determine the relative amount of biodiversity in different areas.
Poster: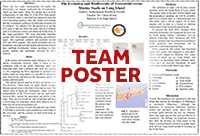 View team poster (PDF/PowerPoint)
Team samples: