Project:
DNA Barcode LI Proposal
Students:

Connor Berlinghof, Christian Ripp, Harkirat Sahansra

School:

St. Dominic HS, Nassau

Mentors:

TRACY NELLINS
Abstract:
In our project, the research that will be conducted involves capturing sixteen ant samples, eight from the Muttontown preserve, and eight from the Massapequa preserve, with the Muttontown preserve being the area with low human activity and pollution, and the Massapequa preserve being the area with high human activity and a lot of pollution. Our hypothesis is that if we test the biodiversity of ants on the Muttontown preserve and the Massapequa preserve, there will be more biodiversity of ants in the Muttontown preserve. Both of these areas vary greatly in human activity and the quality of life, including soil, food, water, and plants. Therefore, this project will find out whether or not these factors affect the biodiversity of ants. Finding this information out is important because depending on what our results come out to be, it can show the effects of humans interfering with how some ants are able to live.
Poster: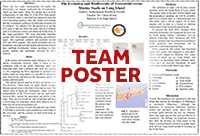 View team poster (PDF/PowerPoint)
Team samples: