Project:
The Effects of Minimal Vehicular Traffic During Quarantine on the Macroinvertebrate Population in a Freshwater Pond
Students:

Tesia Roth, Sara Louser, Aaron Greenberg

School:

Shoreham-Wading River High School, Suffolk

Mentors:

Dana Schaefer
Abstract:
The Coronavirus pandemic has not only caused problems globally for human populations, but also in wildlife conservation. There have been reported incidents of animals venturing into cities as people start to confine themselves in the safety of their own homes in an effort to control the spread of Coronavirus (Sandilya, 2020). Nature was been able to return to a less impacted state in many situations. In the beginning of March 2020, due to the coronavirus, Shoreham-Wading River High School closed down and went fully virtual. This caused an absence in students and staff on SWR campus for approximately five months. In our study, we are looking to see if there was a change in our campus pond's health or the diversity of macroinvertebrate species living in the pond, as a result of the decreased traffic flow onto the school campus. The expectation is that there will have been an increase in species diversity as a result of decreasing pollutants entering the pond as compared to a normal year.
Poster: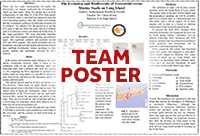 View team poster (PDF/PowerPoint)
Team samples: