Project:
The Effect of Boat Traffic on Macroalgal Biodiversity in the Peconic Estuary
Students:

Matthew Cerniglia, James Minetti

School:

Shoreham-Wading River High School, Suffolk

Mentors:

Dana Schaefer
Abstract:
Macroalgae is a crucial element to marine diversity, providing habitat for aquatic life and a natural water filter. It absorbs greenhouse gases, reducing the effects of global warming. However, recreational boating can negatively impact all marine life, possibly posing a threat towards macroalgal diversity (Sagerman et al 2019). Damage from boat propellers could cause a disruption in the rooting of plants and the anchoring of macroalgae and hard shelled creatures. Engines on marine vehicles also emit pollutants into the water potentially causing challenges to marine life (Hansen et al 2018). Similar concern has been raised in regards to aquatic vegetation such as seagrasses (Collins et al 2010), but little information can be found in relation to the effects on macroalgae. Samples will be collected from a highly trafficked and quiet, lesser trafficked area of the Peconic Bay, to determine potential effects of boat traffic on the diversity of macroalgae present in the two locations.
Poster: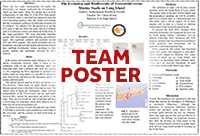 View team poster (PDF/PowerPoint)
Team samples: