Project:
Spilling the Tea: Investigating the Presence of Unlisted Ingredients in Tea
Students:

Amjad Moqbel, Kelvin Tieku

Institution:

Manhattan Center for Science and Mathematics, Manhattan

Mentors:

Lydia Paradiso
Abstract:
Tea is a flavored beverage that is enjoyed by many people around the world. Although food labeling is required for all prepared foods in the USA, products such as tea are exempt from listing all ingredients if they are determined to contain a negligible nutritional value. The aim of this project was to test commercial tea samples to identify their main ingredient. We isolated DNA from 27 tea samples using an at-home extraction method. 22 (81%) of these samples yielded rbcL and/or matK barcodes using a standard PCR protocol. Of these 22 barcodes, 10 (45%) did not match to any listed ingredients. Our results show that since tea manufacturers are not required to list all ingredients on their labels, there may be ingredients present which are not included on the label.
Poster: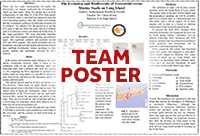 View team poster (PDF/PowerPoint)
Team samples: