Project:
The Effect of Chemical Fertilizer on the Biodiversity of Earthworm Species
Students:

Asma Rashidzada, Blythe Wing

School:

Shoreham-Wading River High School, Suffolk

Mentors:

Dana Schaefer
Abstract:
Earthworms are terrestsrial invertebrates that contribute significantly to their moist soil ecosystems. They carry out the majoirty of decomposition of leaves and litter (Carter 2019), play a vital role in recycling organic material, increase nutrient availablility (Carter 2019) and indirectly contribute to plant growth (Medina-Sauza 2019). Because they are soil dwellers, they are influenced by anything that is absorbed by that soil. This project will focus on the effect of fertilizer on the biodiversity of earthworm species in a residential lawn as compared to the biodiversity of a species in an unfertilized lawn.
Poster: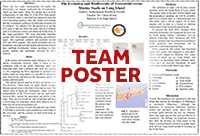 View team poster (PDF/PowerPoint)
Team samples: