Project:
The biodiveristy of microorganisms in different aquatic communities
Students:

Claire Borden, Clinton Charter

Institution:

Mount Sinai,

Mentors:

Lucia Carrau
Abstract:
In our experiment, we will be finding the different viral and bacterial species in five water samples by using RNA sequencing. The results will allow us to make conclusions on the similarities and differences between the microbial communities. Our mentor and a member of her lab will do the experiment and sequence the RNA; we will analyze the data.
Poster: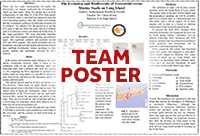 View team poster (PDF/PowerPoint)
Team samples: