Project:
The Effects of Soil pH on The Biodiversity of Insects in Flushing Meadow Corona Park
Students:

Israel Fuzaylov, Emily Koprowski, Valerie Yunatanov

School:

Forest Hills High School, Queens

Mentors:

Lauren Scanlon
Abstract:
In this urban barcoding experiment, we are determining the biodiversity of insects in Flushing Meadow Corona Park. The natural pH of soils usually range from 5-7. And in more dry areas soil pH tends to be higher, close to 7-9. Our hypothesis is, if the areas have a soil pH range level of 6-8 then they will have similar insects because that is the optimal pH range for soil. DNA identity of species can be a very beneficial device in forensic entomology. We are going to collect many species that live in each area. We are striving to use DNA identification of species to differentiate two species of very similar or identical physical characteristics.
Poster: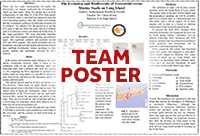 View team poster (PDF/PowerPoint)
Team samples: