Project:
Lumbricidae on the Fieldston Campus
Students:

Ella Caplan, Rex Hechter

School:

Ethical Culture Fieldston School, The Bronx

Mentors:

Howard Waldman
Abstract:
Our goal is to extract DNA samples from worms collected from two contrasting worm habitats: the pile of fresh leaves versus the degraded leaf pile near man-made planks of wood on the Ethical Culture Fieldston School campus. The purpose was to determine the diversity of various worm species in two different habitats on the school grounds. We are also able to determine whether or not they are any invasive species. The DNA of at least 12 samples will be collected, and the DNA sequence will be determined. We are also comparing two DNA extraction methods, one being the Silica Protocol, and the other being the Chelex Protocol.
Poster: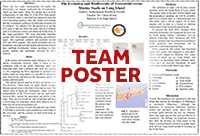 View team poster (PDF/PowerPoint)
Team samples: