Project:
Mosquitoes and Dengue Fever
Students:

Maria DiLeo, Helena Gawlowski, Dylan Ward

School:

William Floyd High School, Suffolk

Mentors:

Luisa McHugh
Abstract:
As we continue to endure the repercussions of the transmission of the COVID 19 virus, we are acutely aware of the necessity of staying vigilant in identifying potential vectors of pathogens that may impact human health. Aedes aegypti and Aedes albopictus mosquitoes are known vectors of Dengue Fever. Although normally seen in tropical regions, Aedes aegypti and Aedes albopictus have been found outside of these traditional ecosystems. With few effective treatments, it is essential to assess the potential for a dengue fever outbreak on Long Island in order to take appropriate action. Due to the possibility of misidentification using morphological analysis, the use of DNA barcoding provides more accurate identification of the mosquito that causes Dengue fever and a means to detect the expansion of their geographic range.
Poster: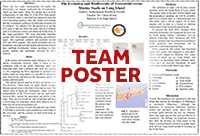 View team poster (PDF/PowerPoint)
Team samples: