Project:
Weeding out the weeds: Mitigating the ecological impact of weedy invasive plant species collected in New York City by encouragin
Students:

Michelle Cao, Daphne Okuyama

Institution:

Long Island University-Brooklyn, Brooklyn

Mentors:

JEANMAIRE MOLINA
Abstract:
Invasive plant species are non-native (or alien) plants that cause disruptions in native ecosystem. In this study, we will collect plant species in New York City as part of a foraging tour by Steve Brill who specializes in discovering culinary uses for invasive plants. We will also collect plants within our neighborhood. We will use DNA barcoding to confirm the taxonomic identity of these plants and determine if they are indeed invasive species. Ethanol extracts will be prepared from these plants for antibacterial and antioxidant assays to explore potential medicinal uses. Our goal is to encourage the harvest and use of these invasive plants for medicine to consequently help mitigate their harmful ecological impact.
Poster: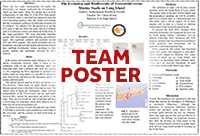 View team poster (PDF/PowerPoint)
Team samples: