Project:
Biodiversity of two Queens Parks
Students:

Leonard Ma

Institution:

Queensborough Community College, Queens

Mentors:

Marianne Williams
Abstract:
Juniper Valley Park and Cunningham Park are two public parks located in Middle Village, Queens and Fresh Meadows, Queens respectively. The parks are frequented by families around the area and they house ecosystems with varying amounts of biodiversity. The biodiversity of nature in NYC, as well as any other city, is significant because the variety of organisms supports the ecosystems and the people living near the area. In this experiment, we will attempt to analyze the biodiversity of the plants in these two public parks by seeing if we can find plants that are predicted to be the same species by the Plantnet app but actually aren't through DNA barcoding procedures.
Poster: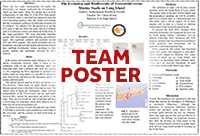 View team poster (PDF/PowerPoint)
Team samples: