Project:
Correlation Between Soil Pollution and Loss of Biodiversity
Students:

Justin Ruggeberg, Nicholas Peranzo, Zenon Ortiz

School:

St. Dominic High School, Nassau

Mentors:

TRACY NELLINS
Abstract:
The ultimate goal of our project is to answer the question, "Will an increase in tainted soil due to industrial pollution reduce the biodiversity of invertebrates in that location?" We hypothesize that an increase in tainted soil due to pollution, will reduce biodiversity in the soil. We will test this by collecting multiple soil and invertebrate samples from two separate locations. We will test the soil for known contaminants. By having two comparable sites, we look to identify similarities and differences in biodiversity between the sites. By using DNA barcoding, we will determine the types of invertebrate species at each location. By quantifying and identifying the types of invertebrates found in each location, we look to determine if pollution has had any effect on the biodiversity of invertebrates in each location.
Poster: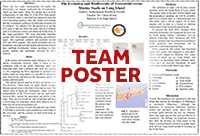 View team poster (PDF/PowerPoint)
Team samples: