Project:
Barrier Island Beetles
Students:

Yashoda Jaikaran, Isaac Pines

School:

Long Beach High School, Nassau

Mentors:

Cody Onufrock
Abstract:
The diversity of beetles on a barrier island will be studied. There are approximately 400,000 species of beetles on earth. Around 40% of insect species are beetles. Beetles are very diverse and live almost everywhere on the earth except the polar regions. If we set up different types of food around a grassy area, then certain species of beetles be attracted to certain types of food. Pitfall traps and sweep netting will be used to capture the beetles. The beetles will then have their pictures taken from under a microscope to inspect and identify them. If unable to ID using keys then DNA barcoding protocol will be used.
Poster: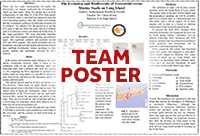 View team poster (PDF/PowerPoint)
Team samples: