2023-24 Open Lab Sessions
Dates for BLI Open Labs and Bioinformatics Open Labs coming soon.
Acceptance of a team's proposal is required prior to a footlocker kit request. Two types of kits are available for loan: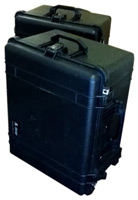 What's in a full kit?
Full footlocker kits contain all equipment and replenishable materials needed to complete the DNA extraction and amplification. Full kits may be borrowed for up to two weeks.
Mini footlocker kits contain reagents and any necessary minor equipment needed by each team. Kits that only require reagents and minimal equipment are more readily available than full footlockers kits.
If you are requesting a full footlocker kit, please be aware that a limited number of these kits are available. Footlockers should be requested at least 2 weeks in advance (or sooner) of intended use date. You may borrow a footlocker for up to 10 days.
When you receive the footlocker kit, you must submit a Student Demographic Form for the students who will use the kit. These can be emailed to barcodeli@cshl.edu.