Barcode Long Island
Educator Workshop
The Cold Spring Harbor Laboratory DNA Learning Center is an approved Sponsor of Continuing Teacher and Leader Education (CTLE).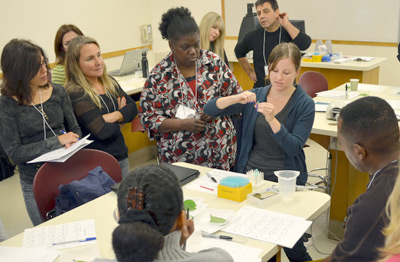 Teachers are eligible to attend a summer training workshop if they teach a high school science class or research program. Teachers must attend a five-day DNA barcoding workshop before they may mentor teams for BLI.
In the DNA barcoding workshop, participants will be introduced to the project, learn all the biochemical and bioinformatics techniques required for DNA barcoding, and learn how to mentor student barcoding teams. Each workshop is six hours a day for five days. Teachers who complete this workshop will be invited to organize student teams, who will carry out all aspects of DNA barcoding research during the school year. Teachers who attended a week-long training workshop in previous summers may not register to attend the barcoding workshop a second time.
There are no 5-day training workshops scheduled at this time.
Mentor 1-Day Refresher Meeting
All current mentors who have completed a week-long BLI training are invited to attend a one-day mentor update and refresher meeting on Election Day - Tuesday, November 5, 2019 from 9:30 am – 1:00 pm covering program updates (rapid DNA isolation techniques, Sample and Specimen Database updates, taxonomy, microscopy, etc.). An optional DNA Subway full refresher will follow from 2:00 pm – 4:30 pm.
Additionally, Dr. Peter Bickerton, the Scientific Communications & Outreach Manager from the Earlham Institute in the UK and participant in the "Darwin Tree of Life" project will be in attendance, and will present a short talk on his research and outreach activities.
Please email barcodeli@cshl.edu if you are interested. Mentors who attended the meeting last year: the morning content will be the same, but please let us know if you have interest in the afternoon DNA Subway refresher.