Barcode Long Island
Educator Workshop
The Cold Spring Harbor Laboratory DNA Learning Center is an approved Sponsor of Continuing Teacher and Leader Education (CTLE).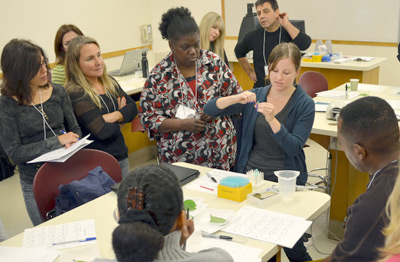 Teachers are eligible to attend a training workshop if they teach a high school science class or research program. Teachers must attend a barcoding workshop before they may mentor teams for BLI.
In the DNA barcoding workshop, participants will be introduced to the project, learn all the biochemical and bioinformatics techniques required for DNA barcoding, and learn how to mentor barcoding teams. Teachers who complete this workshop will be eligible to organize student teams, who will carry out all aspects of DNA barcoding research during the school year.
Available workshops:
BARCODE LONG ISLAND – WET LAB TRAINING WORKSHOP
The Cold Spring Harbor Laboratory DNA Learning Center (DNALC) is offering a one-day, in-person wet lab training workshop on DNA barcoding. High school teachers on Long Island with an interest in implementing authentic research experiences with students through Barcode Long Island (BLI) are welcome to apply for this free workshop.
Participants must provide proof that they are fully vaccinated. You will receive a link by email to upload this documentation directly to the DNALC. Masks are required at the DNALC. Seating for this workshop is limited and available on a first come, first served basis.
2021 In-person Workshop
Election Day: November 2, 2021 9:30 a.m.–3:30 p.m. EDT
Participants in this workshop will learn:
Introduction to DNA barcoding and biodiversity
Sample collection and documentation
Chelex DNA extraction
Polymerase Chain Reaction (PCR)
Gel electrophoresis
Program implementation
A virtual bioinformatics training with DNA Subway will be scheduled for a later date.